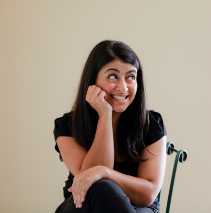 Susie Youssef is a comedian, actor, writer and improviser. Susie is a regular cast member on Whose Line Is It Anyway? Australia and guest stars in ABC comedy series, Rosehaven and Get Krackin and No Activity on Stan.
She is a regular guest on radio and TV and has appeared on Have You Been Paying Attention (Channel 10), ABC TV's How Not To Behave, The Chaser's Media Circus and The Checkout.
She has written, performed and produced comedy for stage, radio and television in Australia and around the world. In 2014, she played the lead role in the Hayloft Project's award-winning play The Boat People.
She is a regular performer at the Sydney Comedy Store and Giant Dwarf Theatre and has performed at Splendour in the Grass, Secret Garden Festival and Homebake. Susie has performed internationally as a guest at Improvaganza in Edmonton, Dad's Garage in Atlanta and The Del Close Marathon in New York. Susie studied at the iO Theatre in Chicago and quite a lot of the burgers.
Following a sold-out run at the Sydney Fringe Festival in 2014, Susie made her solo debut at the Melbourne and Sydney Comedy Festivals in her sketch comedy show Sketchual Chocolate. She returned to the comedy festival circuit in 2015 with Owl Eyes On You and in 2016, Susie made her Edinburgh Fringe and London debut in Check Youssef Before You Wreck Youssef. Susie continued to test the limit of her anxiety with her most recent show Behave Youssef.
In 2018, Susie will debut at the Griffin Theatre in The Smallest Hour, written and performed by herself and that nice British raconteur, Phil Spencer.